Do you have products or services to sell? Do you want to start making money on your site, but do not know how to open an online store and which engine to choose? In this guide, you will learn which engine is best suited for creating your store.
If you believe the calculations, 80% of buyers believe that they will find better deals on the Internet and about 80% of the total US population, at least once purchased goods online! These numbers are only increasing every day.
The undoubted market leaders in the store building platforms are now PrestaShop, WooCommerce & Magento. They have proven to be reliable, simple and light, and every day the number of stores that use them only grows. Today we will talk about them, put everything in its place and try to understand which engine is better for the user who decided to create his own online store.
What

is

WooCommerce

?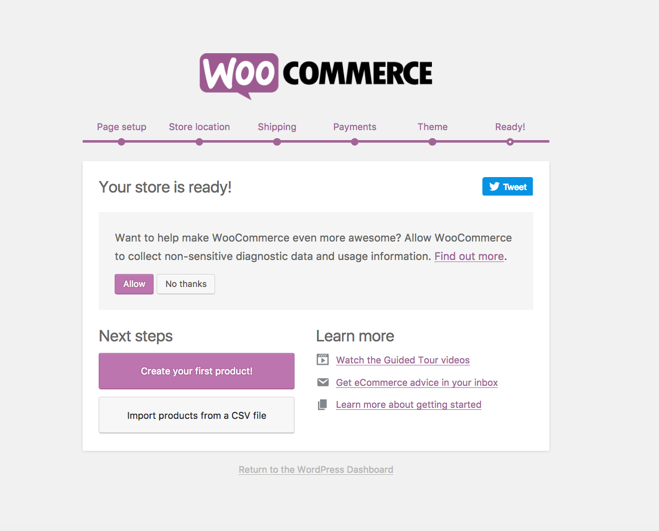 In fact, Woo is a free, open source e-commerce plugin created for WordPress platform. This is a powerful software for creating an online store from your WP blog. WooCommerce has a lot of awesome features, such as various methods of payments, delivery and acceptance, customizable type of your products and many much more. 
Despite the existing stereotype about the sole purpose of blogging WordPress, on this engine for a long time you can create almost anything. Moreover, in many cases, you can even do without the knowledge of web programming, simply select a good template & select the necessary plugins you need.
What are the benefits of a WooCommerce?
What
are
his
disadvantages
?
Demanding of resources. After installing the plugin on WordPress, the load created on your site will increase significantly;

The high cost of advanced features. Although the plugin is essentially free, professional tools for it are quite expensive;

To create a full-fledged store, you must manually install dozens of add-ons. for example, to manage the quantity and stock of goods. Most products are paid. Free add-ons do not guarantee the safety of the store.
What

is

Magento

?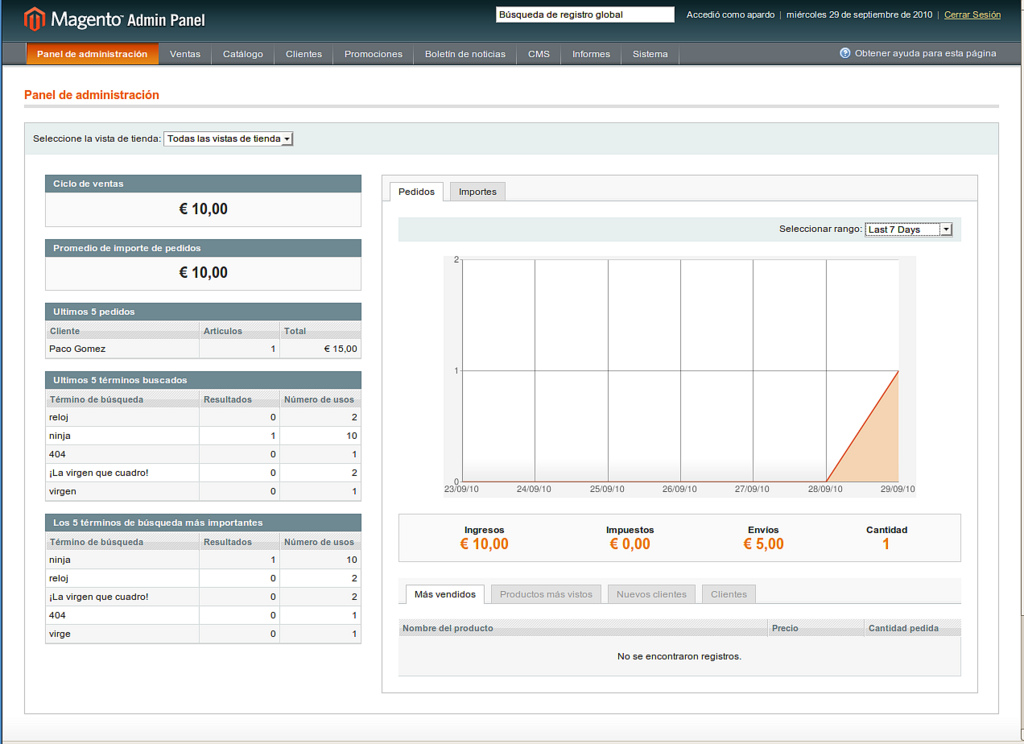 Magento CMS is a good and high-quality platform, which is great for creating an online store. In some ways, it can be difficult for an inexperienced user (unlike site builder), but its capabilities are much broader than those of other similar platforms. And if some functions are not in the basic configuration, then you can connect additional modules.
However, the system interface is complicated and incomprehensible for inexperienced users, so you should hire a developer who will help you work with the program and configure it correctly. The services of such a specialist are not cheap. It is also worth noting that for a large project in Magento you should at least rent a VPS and, optimally, look towards the physical server. All this greatly increases the cost of the project.
What
are
the
benefits
of
a
Magento
?
High speed working even with a large number of visitors;

The

adaptability

of

templates

for

mobile

devices

;

High protection provides;

Improved

caching

system

Varnish

Cash

—

speeds

up

the

loading

of

pages

.
What

are

his

disadvantages

?
The

system

is

paid

,

although

you

can

get

a

demo

version

;

Complex installation process — to install CMS Magento most likely you will have to entrust third-party people and the newcomer to performing any operations without having any knowledge behind them, it will simply not be possible;

A small amount of addition — despite the fact that the engine has been developed for more than 10 years, for it there is a very small number of additions and extensions;

Demanding

of

resources

.
What

is

PrestaShop

?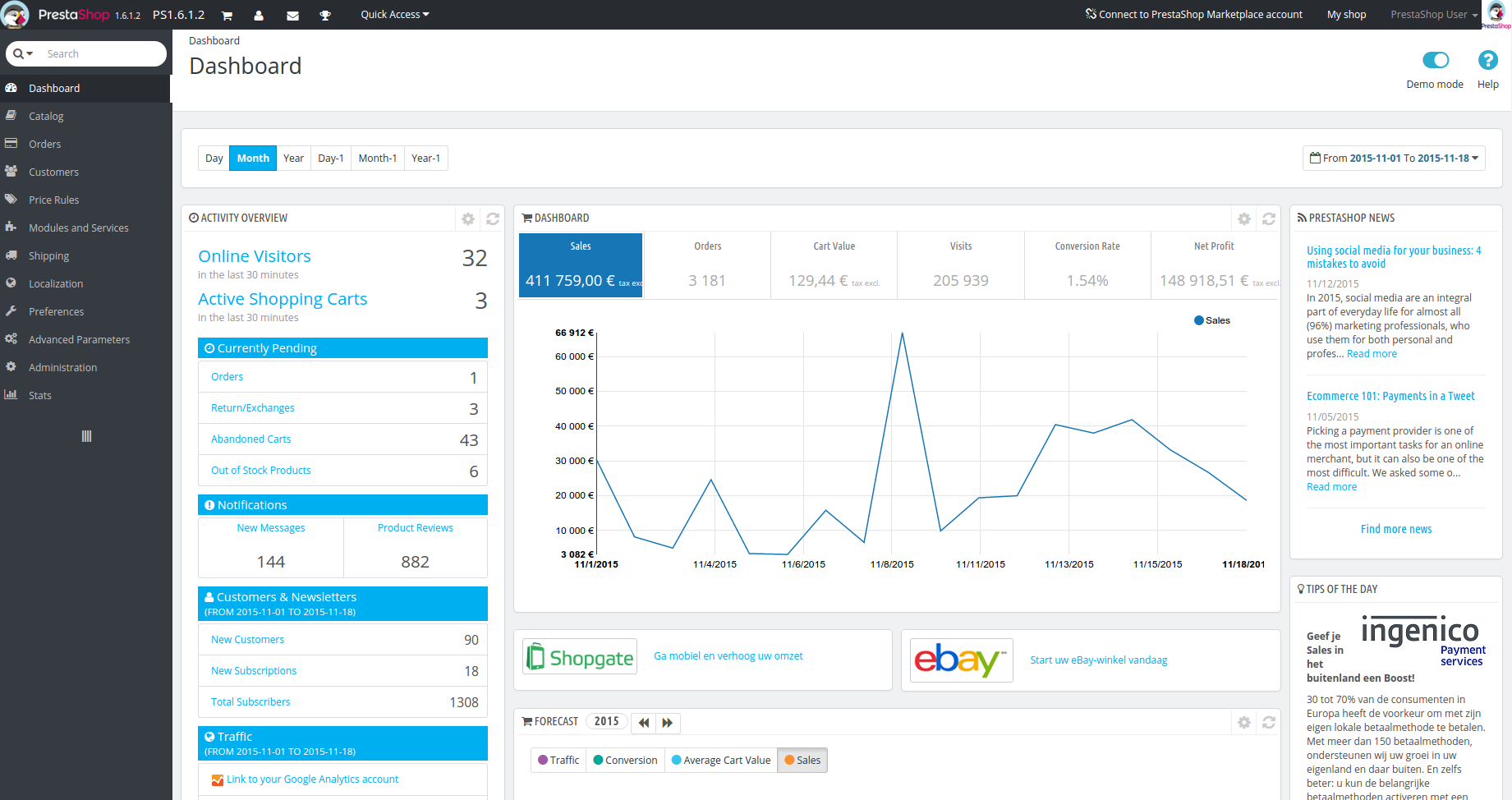 PrestaShop is a specialized e-commerce engine. Works for 10 years. The system is mainly used by small and medium businesses, but it is also possible to build large online stores.
PrestaShop offers a convenient administrative panel with a Russian-language interface that any user can quickly figure out, even without any experience interacting with CMS. The main advantage of PrestaShop is the sharpening of e-commerce. If you need to build an online store, here you will find everything you need "out of the box" or in the list of modules. This script was originally conceived as simple but powerful.
This engine is easy to download, easy to install and easy to start working with. In addition, there is a built-in assistant that helps to get started: make all the necessary settings and fill out the catalog of goods. This means that this is the perfect engine for beginners!
PrestaShop also always has quality templates that go by default in a box. They constantly modify their template from the box according to the fashion. This means that if you do not have the money to purchase a template for your store, then you can start working in a free quality template that comes with delivery.
What are the benefits of a PrestaShop?
What

are

his

disadvantages

?
Free

hosting

is

not

suitable

for

work

;

Most

of

the

themes

and

modules

 

are

paid

;

Difficulties

in

editing

the

source

code

.
Conclusion
What happened? Our opinion is that PrestaShop is an ideal choice for a start-up business. The functionality of the engine exceeds most of the free counterparts, so it copes well with the implementation of advanced online stores, which provide complex characteristics and filters of commodity items. With minimal knowledge of PHP, you can create a very flexible and full-featured trading platform at PrestaShop.
The system includes 310 standard options designed to effectively solve business problems. Powerful functionality with the ability to expand through the installation of modules, professional and secure themes with an attractive design — all this will allow you to recoup the money invested.
You just need to download and install free software, perform basic settings and fill the online store with goods, after which you can safely make online sales.
Ultimately - you decide.