Automatic Orders (CSV, Excel) Export
Orders (CSV, Excel) Export module allows you to configure automatic export and get report about it ony your email address.
At first you need configure your export filters and choose fields for export.
Then you need enable Automatic Export option and enter email address on which export report would be sent.

After this you need to save your order export settings:

After saving you get a link which you can place in your crontab file for regular export. Or you can click it yourself regularly:

Before placing link in crontab, we recommend open it in browser and make shure that Automatic Export settings was configured correctly.
If you get message bellow, your configuration is right.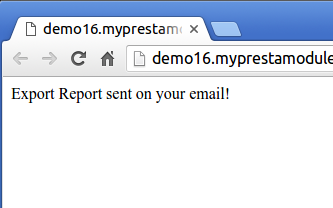 After Export you will get report with Orders Export details on your email address.